Download the Gekko Cost app for free
Prevent stress at the end of each quarter when you have to do your vat returns. With our receipts scan app you can take a picture of all your receipts with the camera of your smartphone. You can add required information, such as vat rate, description and cost category. You can download our Gekko Cost app for Android and iOS for free.
Easily load invoices from your mailbox
Received a digitized invoice via your email? You can upload receipts straight from your mailbox into our receipts scanning app. Or simply forward your receipt to upload@costs.getgekko.com and the receipt is automatically added to your account. Your company records will be ready and complete in no time at all.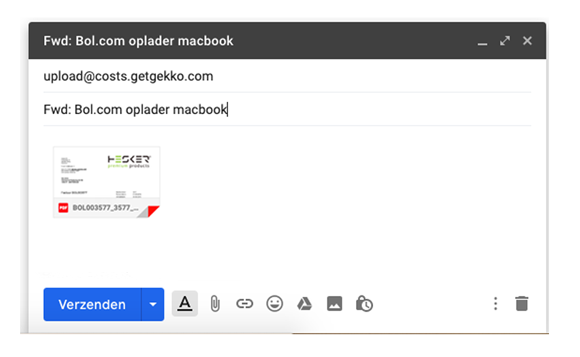 Share your receipts with your client or accountant
The receipts and invoices that you have scanned with the Gekko Cost app are digitally stored in your online account. Here you can add your costs directly to your invoices and attach the receipt as proof towards your client for incurred expenses. You can also download all your receipts and invoices for your accountant. Including a complete overview of all your expenses. All your costs organized per cost category and supplier.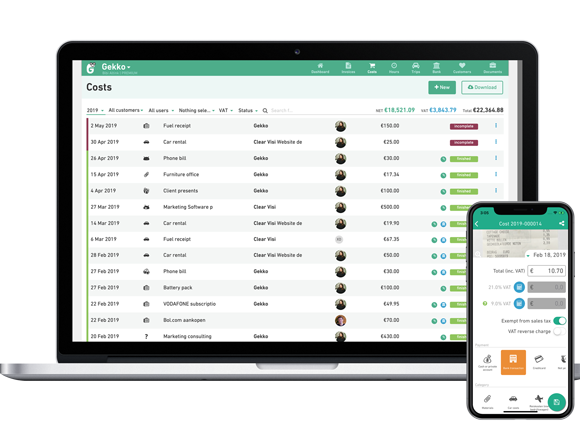 Link your receipts to your bank transactions
As an entrepreneur you can deduct all your business expenses from your profit. With Gekko you can integrate your online bank account with your books. Link your digital receipts and invoices directly to transactions from your bank account. In your online account as well as the receipt scan app. This allows you to create a clear overview in your accounting process so you will never miss out on deductible costs. So easy.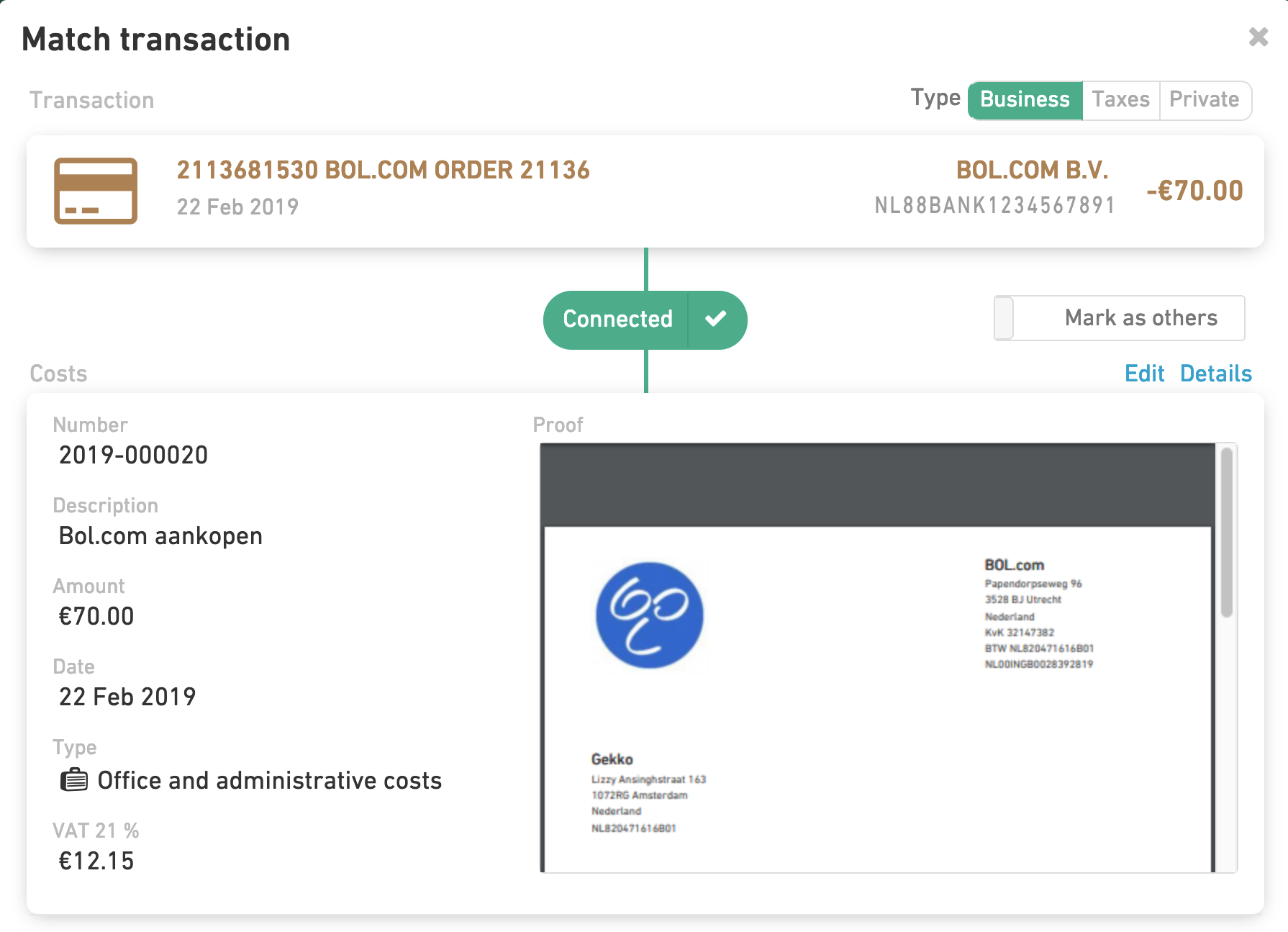 Manage your cash flow
As an entrepreneur, keeping tabs on your expenses and cashflows is really important. If only it would not take up so much of your time. With the cashflow report you can now automatically keep track of your income and expenses from your business bank account. Also, you can get detailed reports on where you spend your money in your Gekko online account. Clearly specified per customer, supplier or project. Always be in control of the financial health of your company.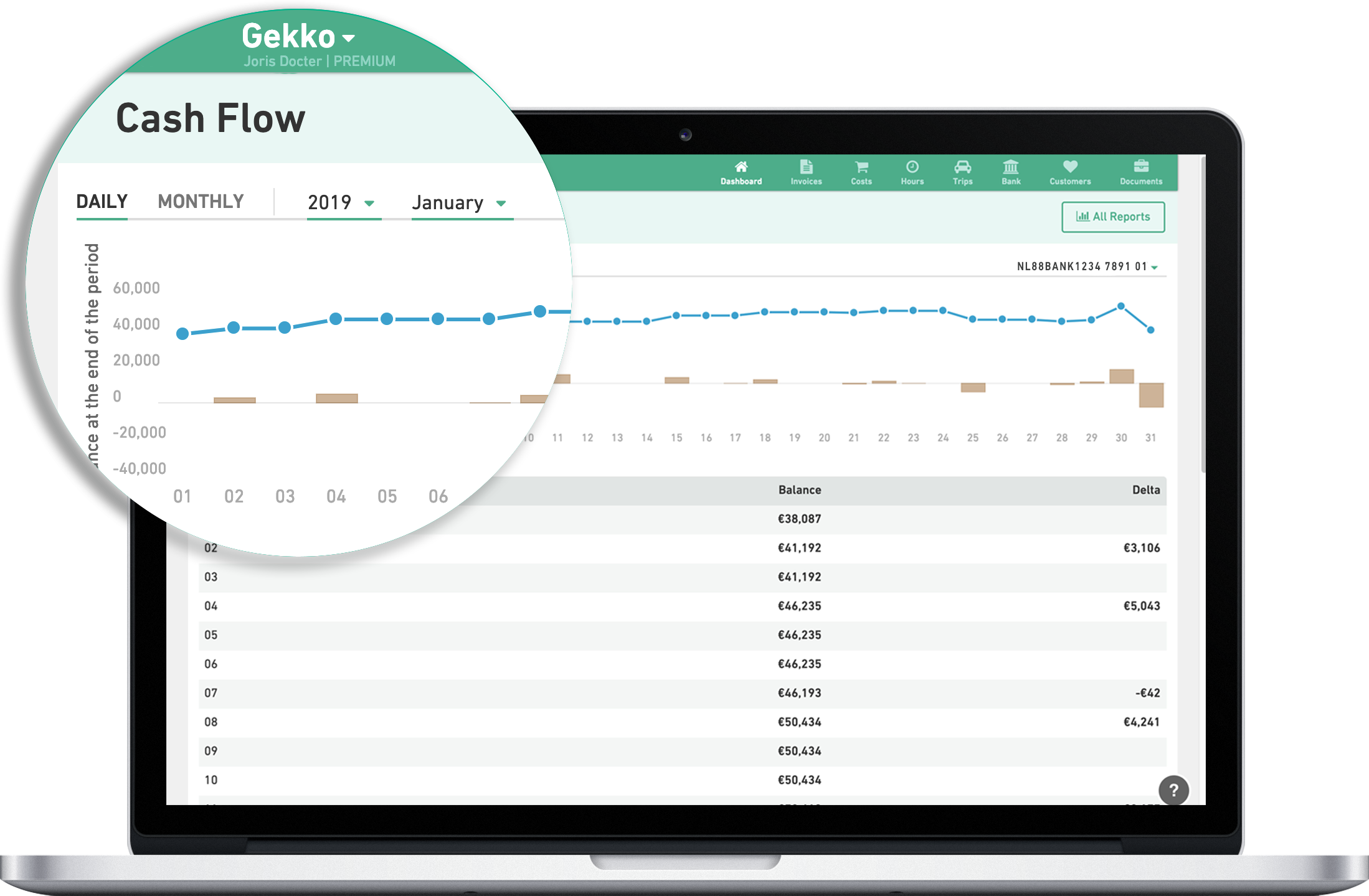 Start now with our
free accounting software