We don't like doing our
accounting

either.

That's why we

made it

simple

.

Gekko Basic

Everything a small entrepreneur needs.
Unlimited use for free.
Everything you need from an accounting system and more
Gekko is especially made for small entrepreneurs. A system that is easy to use and understandable but at the same time has all the functions and features that you will need.
Receipt management and scanning

Keep track of expenses via your online account and scan receipts with your mobile Gekko Costs app.

Invoicing and payments

Create and send professional invoices and allow your customers to pay you with the click of a button.

Hour registration and tracking

A full overview of all billable and non billable hours. Directly connected to your online account.

Real time bank integration

Connect your bank account to update incoming and outgoing payments in real time.

Trip management and registration

All business trips and travel automatically tracked via GPS on your mobile.

Send and accept quotations

Send online quotations to customers and validate them via your personal online portal.
The right price for you
whoever you are
Accounting tools made for entrepreneurs, not accountants
A system that is made especially for you, that you can understand and that will help your business thrive. No complications, everything you need in one place.
Costs & Expenses
Scan your receipts
Keeping track of your expenses becomes as easy as taking a picture with the Gekko Costs app.
No more messy folders or shoe boxes full of receipts and invoices.

Just digitize using the camera on your mobile.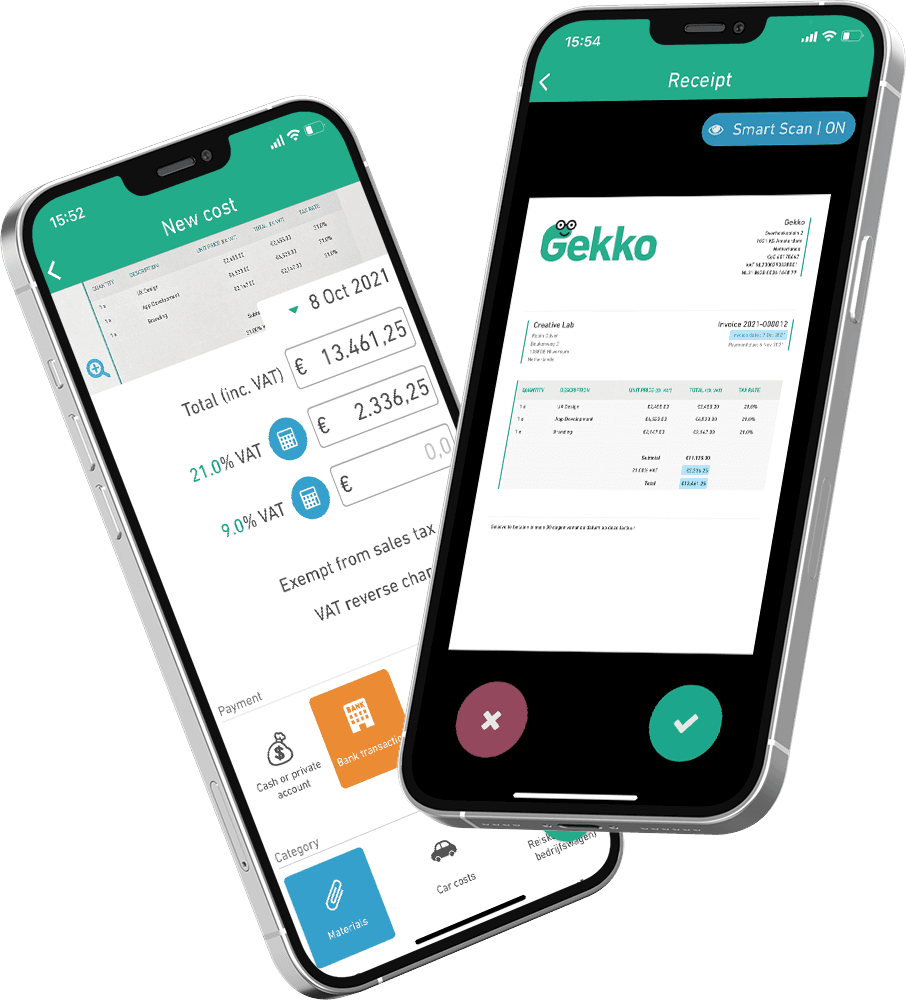 Invoicing
Send professional invoices & quotations
Create professional invoices & quotations with our online invoice editor and mobile invoicing app.
Add expenses, hours or trips with just one click of a button.

Send your invoices and payment requests digitally and your accounts will be automatically updated when payments are being made.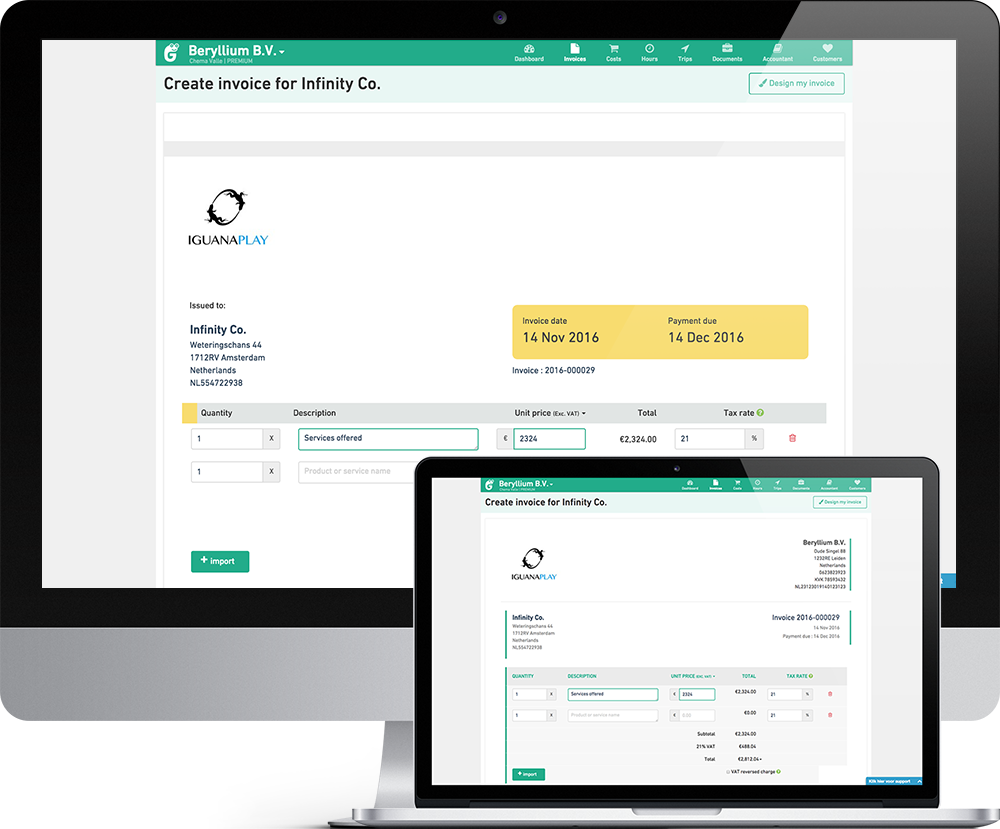 Time management
Track your hours
Always a clear overview of when you worked. And easy to share with your customers.
Use the mobile time tracker app or your online account to keep track of your hours.

Combine hours of multiple users in one account.

Import registered hours directly to professional invoices.

Google Calendar and Apple Calendar integration, automatically import into your Gekko account.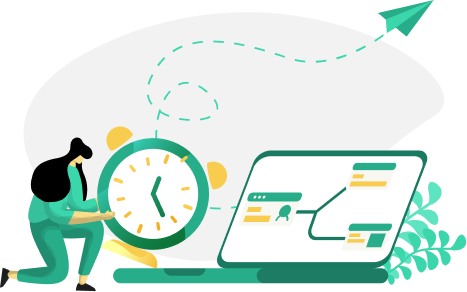 Mileage Tracking
Log your trips
Use our real-time GPS tracking to accurately map all your routes.
Use Gekko Trips to log your trips and routes.

Use both the GPS and the manual input to make sure no kilometer is left untracked.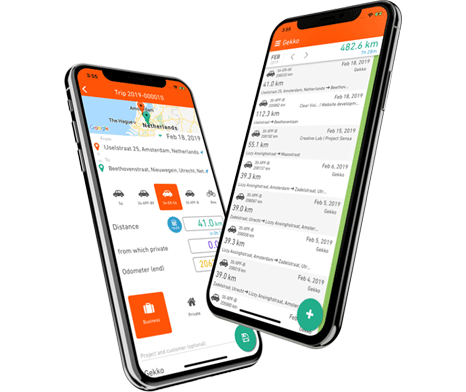 Integrations
Connect your bank account
Easily add your bank account to your online accounting.
Connect your bank account transactions.

Get information in real-time and link them directly to invoices and receipts.

Connect payment services to your invoices.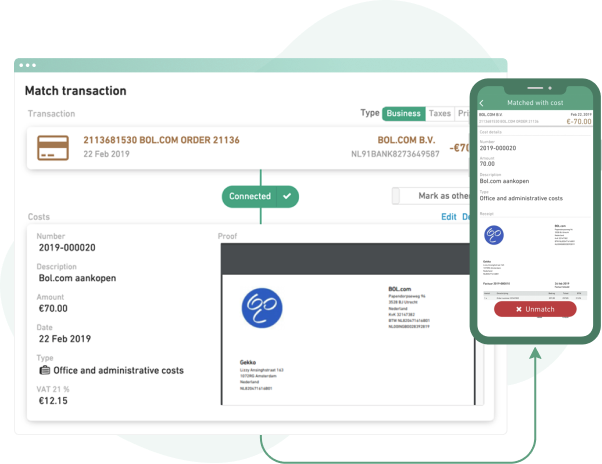 What users think of Gekko
Over one thousand reviews with an average score of 4.5 stars
Best accounting tool for freelancers and small businesses professional, user friendly, perfectly adapted to freelancers and small businesses and very affordable.
Great. Usefull app. Free of charge and I love the timer which I use every day wen working a freelance job.
Easy and insightful. I have been using this app for a few months now and am very happy with it. In combination with the desktop site and invoicing system it's a powerful and easy to use tool.
Awesome app!! I'm a freelancer half the week and on contract the other half and this is perfect both to keep track of how in time I spend not only on several distinct projects I work on as freelance but also the hours I spend in the office. Plus it helps w invoicing and all that horrid stuff you need to do as a freelancer. 5 stars all the way.
This is seriously an awesome tool and website.
Very easy to use for automatic tracking of time on a chosen task. Manual input also very convenient.
Easy admin Just as you need it, an app to store your expenses and exporting it to excel for administration.
Great App! Did exactly what I needed, when I needed it. Cheers!
User-friendly way to keep track of hours. The integration with the invoicing app is very practical as well.
Lovely app for tracking hours Just create a project, add sub project for more detailed hour tracking and then just start a timer!
Handy app, first time I use an app but it works a lot better than Excel sheets.
My favorite part is the invoicing system. This was always a series of small, redundant operations. First opening a worddocument, then enter the amounts, check these with an excelsheet, send an email with a PDF attachment, a reminder email, etcetera, etcetera. With Gekko it's just one push of the button.
Ready to start your Gekko account?
It's easy to use, understandable and specifically build for small entrepreneurs. And most important, it's free. No tricks and no limitations. With your Basic account you can use all necessary accounting functions for as long as you want.